Benny Imura #2
Published August 2011 by Simon & Schuster
website | twitter
Series: 1. Rot & Ruin 2. Dusty & Decay* 3. Flesh & Bone (9/11/2012)
Source: Bought @ Amazon
Rating: Loved It Bunches
In post-apocalyptic America, 15-year-old Benny Imura and his friends set out into the great Rot & Ruin hoping to find a better future but are soon pitted against zombies, wild animals, insane murderers, and the horrors of Gameland. (Source: Goodreads)
If you follow me at all, you'll know that I am a Jonathan Maberry uber-fan girl. I fell in love with Rot & Ruin. You don't have to even like zombies to start this series. It is so rich. But once you do, you'll learn to love these flesh eating zoms. Let's talk covers. I'm not sure there are covers that I love more than those for this series. FABULOUS. They scream, "READ ME!"
Dust & Decay picks up a few months after where Rot & Ruin left off. The Imuras and friends are back in Mountainside recovering from taking down Charlie Pink-Eye. Nix is still set on following the jet they saw East. She believes there has to be something better out there somewhere. Something besides existing in fear and the crushing walls of Mountainside. Where Nix goes Benny will follow. Where Benny goes, Tom will have to lead the way and keep them safe. Tom starts putting Benny, Nix, Chong and Morgie through his Warrior Smart training.
Tom's frustration with Mountainside not taking a more active role in keeping undesirables, like Charlie, from creating things like Gameland accelerates his launch date to get out of town. Tom, Benny, Nix and Lilah set out on the quest to find the jet and some hope for a new better way. Chong even comes along for one night.
As usual, the zoms are the least of their problems. First off, Chong would so get voted off Survivor first. Well meaning and sweet, he puts everyone in more danger when a rhinoserous charges the group by not listening. Then as result of extreme self-loathing, he decides he'll just head home on his own. Can you already see the problem? If you can't follow orders and almost get everyone killed, how are you going to handle it on your own. This is kind of a turning point where all things horrible rain down on them. From here on out the action and near death situations keep coming one after another.
In Rot & Ruin, we really got to know Tom through Benny's eyes. His Zen Closure Expert Samurai Ways. Tom really challenged the reader's view of zombies and living in fear. Benny came a long way in the first book. In Dust & Decay, Benny and Nix continue to mature and learn. They are the perfect medium to represent the hope sought by the generation that didn't know life before First Night. Lilah is the character that really gets the gut check in this book. Lilah, The Lost Girl, is the epitome of a SURVIVOR. But she was also a loner, until she met Tom. She came back to Mountainside with him. She even lived with Chong's family while in town. It was really interesting to watch her realize and deal with the fact that she has friends when the walls come crumbling down. She never thought LOVE was in her future. *tears* I'm also not a happy camper, Maberry. *shakes finger at you* You know why.
An unique band of friends have to fight off a few zombies in order to bring the LAW against pure evil.
Must Be 13 Years Old or Older
Open to US & International
Open 5/1/2102 to 5/31/2012
Funded by Bookgoonie
Must Love Zombies
And Let Me Know What Your Favorite Zombie Book Is in the Comments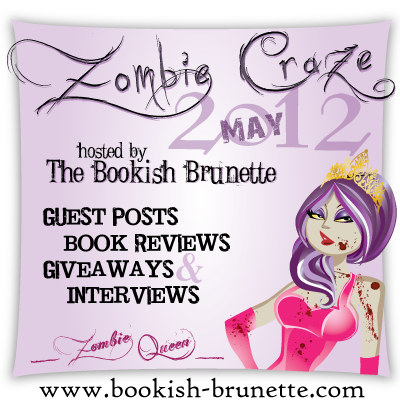 Stop by for Zombie Craze all month. 2-3 Zombie book reviews a week plus lots more Zombie Goodness all month.