Stop by Chick Loves Lit to get the prompts for Mondays.
Recommend A…blogger with similar taste
This is a hard one, because I have mostly YA bloggers and mostly Adult bloggers that I stalk. Sometimes we've read the same books and can discuss, sometimes I just add their recommendations to Goodreads. Poor Goodreads…busting at the electronic seems. The bloggers I'm going to share mix it up in a similar fashion. Mostly YA with Adult for spice. And two of these awesome bloggers already participate in this great meme…I stalked them all the way here.

Sara @ The Librarian Reads
Jess @ Gone With the Words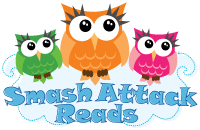 Smash @ Smash Attack Reads