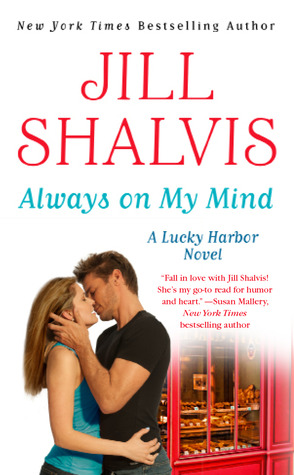 Lucky Harbor #8
Published September 2013 by Grand Central
352 pages
website | twitter | facebook
Genre: Adult Contemporary Romance
Series: Simply Irresistible | The Sweetest Thing  | Head Over Heels | Lucky in Love | At Last | Forever and a Day | It Had to be You | Always on My Mind | Once in a Lifetime | It's in His Kiss (August 2014) | He's So Fine (September 2014) | One in a Million (October 2014)
Source: Library
Rating: LOVED!
THERE'S NOTHING LIKE THE REAL THING

After dropping out of pastry school and messing up her big break on a reality cooking show, Leah Sullivan needs to accomplish something in her life. But when she returns home to Lucky Harbor, she finds herself distracted by her best friend, Jack Harper. In an effort to cheer up Jack's ailing mother, Dee, Leah tells a little fib – that she and Jack are more than just friends. Soon pretending to be hot-and-heavy with this hunky firefighter feels too real to handle . . .

No-strings attachments suit Jack just fine – perfect for keeping the risk of heartbreak away. But as Jack and Leah break every one of their "just friends" rules, he longs to turn their pretend relationship into something permanent. Do best friends know too much about each other to risk falling in love? Or will Jack and Leah discover something new about each other in a little town called Lucky Harbor? (Source: Goodreads)
I love that this couple is hometown Lucky Harborites. Best Friends growing up. Jack distracted Leah every time her father made her feel less than. Leah was there for Jack when his dad died. Their lives diverged and they both struggle with their dreams and relationships.
Now back in Lucky Harbor being "friendly" isn't quite the same as the good old days. There is too much baggage and too many "what ifs" in the way. And they both are struggling with what they want to do with their lives and who they want to do it with.
A fireman and a baker melted my heart with all their sweetness. JILL also does a great job laying the interest for the next love connection. Ben & Aubrey, you are next.