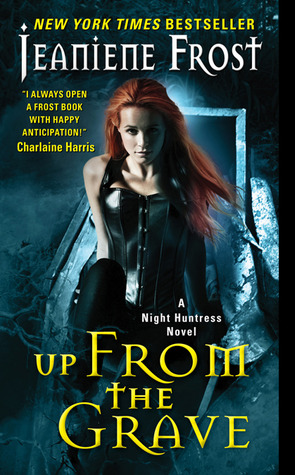 Night Huntress #7
Published January 2014 by Avon Books
Narrated by Tavia Gilbert | Blackstone Audio
343 pages | 8 hours 41 minutes
website | twitter  | facebook | audible
Genre: Adult Paranormal Romance | Urban Fantasy
Series: Halfway to the Grave | One Foot in the Grave | At Grave's End  | Destined for an Early Grave | This Side of the Grave | One Grave at a Time | Up From the Grave
Source:  Library
Rating: Liked It
There's always one more grave to dig.

Lately, life has been unnaturally calm for vampires Cat Crawfield and her husband Bones. They should have known better than to relax their guard, because a shocking revelation sends them back into action to stop an all-out war…

A rogue CIA agent is involved in horrifying secret activities that threaten to raise tensions between humans and the undead to dangerous heights. Now Cat and Bones are in a race against time to save their friends from a fate worse than death…because the more secrets they unravel, the deadlier the consequences. And if they fail, their lives—and those of everyone they hold dear— will be hovering on the edge of the grave. (Source: Goodreads)
When we left ONE GRAVE AT A TIME, we knew Madigan's agenda would be revealed here. But I don't think we realized how far reaching it was going to be. The whole mess will have you cursing the freaking Ghoul & Vampire counsels along with government cover-ups.
You'll get plenty of what you've come to expect…action-packed and fun dialogue. Probably the only thing that irritated me was Cat & Bone's lack of TRUST. I thought we were finally getting beyond it, but this time it almost brought the tears. The secondary characters, especially Ian, were in their full-blown glory. They definitely reminded us that it wasn't just our love of Cat & Bones that brought us back book after book.
My final thoughts were…interesting finale. It was a solid ending with twists and turns. It provided us a solid surface to leave Cat & Bones. Hopefully they'll finally get some peace, but leaves you thinking that there is more adventure in their future.
As much as I've enjoyed reading FROST's words, I didn't even hesitate to let TAVIA GILBERT be my guide for the finale. Once I hit play, I was at her mercy. TAVIA captures Cat's spirit. She is a mix of uncertainty, humor deflecting, saucy, fierce…all the things that make us love her and root for her. Her males are the best. Bones & Ian are the most fun with their alpha exerting & racy thoughts. Spade & Vlad have a battle-harden warrior calm. Each voice is distinct, memorable & full all the character FROST poured into their creation. Overall well done. FROST & GILBERT are a great team for the audiobook lovers out there.